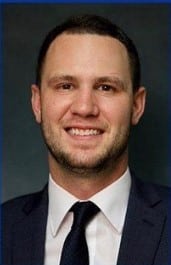 Cougar Fans and the community will recognize the name. Norman is a Freeport native. He was an all-conference and all-state basketball player at Freeport High School, and is the son of Highland's former legendary 15-year men's basketball coach, Pete Norman. Although the name is familiar, Norman has his own list of accomplishments to bring to the established program.
Norman holds a Bachelor's and Master's degree from Eastern Illinois University (EIU).While an undergraduate student at Eastern, Luke was a member of the Men's Basketball team, served as team captain, and was awarded multiple honor rolls.
Norman was an assistant coach for the EIU Men' Basketball team during the 2017-2018 season, helping lead the Panthers to the Quarterfinals of the OVC Men's Basketball Championships. He helped coach and develop one All-OVC Second team member, and one All-OVC Newcomer team member. This coaching experience made Norman emerge as the best candidate for Highland during this search for a head coach.
Norman is a Highland graduate, and was a member of the 2014 Men's Basketball team. During that year, he helped lead the Cougars to an Arrowhead Conference Title, a Region IV Title, a trip to the NJCAA National Tournament in Hutchinson Kansas, and was awarded as a NJCAA Academic All-American.
When Luke enters his alma mater as the head coach, he may not recognize the gym.The Larry F. Kahl Gymnasium has been under construction since March. The old rubber-like flooring was stripped out and has been replaced with a new wood court. The new pads, bleachers, and air conditioning will complete the build in August. The center court will display the new Cougar mascot logo that was designed by Freeport artist Josh Elliott.
"I am excited that Luke has been named the next Highland Cougar coach. Luke has grown up a Cougar and understands what Cougar Nation and Highland Basketball is all about on and off the basketball floor. He will bring a new level of excitement to the program. With a late start, he will need to hit the road running," said Pete Norman, Highland Community College Athletic Director.