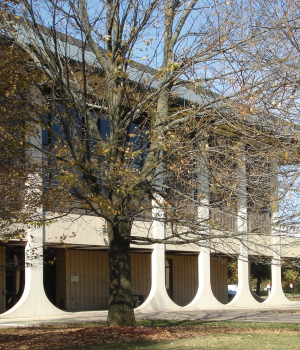 The 2022 Boyer Colloquium, "The Impact of Microplastics on the Environment and Human Health," is scheduled for 7 p.m. Tuesday, April 19 on Zoom™.
Highland Community College will host speakers Dr. Tim Hoellein, Jodi Anne Flaws, Ph.D., and John W. Scott for discussions on how microplastics enter the environment, the ecological effects of microplastics, and the chemical effects of plastic contaminants on human health.
"We are fortunate to bring three experts who research the effects of microplastics in different aspects of the plastic pollution cycle, from its source to landfills, to its entry into the environment, and how it reaches living organisms, including humans," said Juliet Moderow, Biology instructor. "Many individuals may be aware of the terminology of microplastics, but may not understand the effects of microplastics in the environment and how it ultimately affects human health."
The panel discussion moves beyond the visible effects of plastic litter strewn in streets and waterways but provides information about the less visible and microscopic effects of plastic contamination.
The consequences of plastic pollution are becoming more alarming, especially with recent research finding that microplastics have been detected in human blood. The panelists will also share information about possible solutions with how to decrease reliance on plastics, deal with plastic waste properly, and how minimize exposure to plastic pollution to protect the environment and public health.
Hoellein is an Associate Professor at Loyola University in Chicago researching the sources, fate, and biological interactions of pollutants including dissolved chemicals and particulate material in urban aquatic environments.
Flaws is a Professor in Comparative Biosciences at the University of Illinois Urbana-Champaign researching the mechanisms by which environmental chemicals affect the development and function of the ovary.
Scott is a Senior Chemist at the Illinois Sustainable Technology Center at the University of Illinois studying legacy and emerging contaminants in the environment for the past 20 years.
The Boyer Colloquium, an annual event sponsored by the late Dr. M.E. Boyer, was created in 1994 to help students and communities understand the importance of the inter-relationships between ethics, economics, and ecology. The Boyer Colloquium Committee believes that if communities comprehend issues, the history of previous decisions, and the ramifications of prior actions, they will be better positioned to make informed decisions.
The program is free and open to the public. For more information about this year's Boyer Colloquium, visit highland.edu for the Zoom™ link or call 815-599-3493.