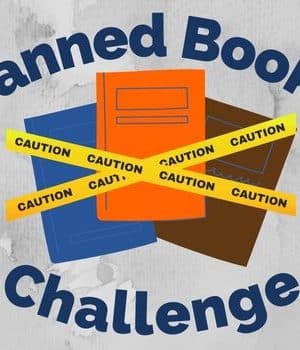 FREEPORT – Highland Community College's Clarence Mitchell Library rolled out a Banned Books Challenge with campus common reads during Welcome Week for students Sept. 6-9. The books — "Working" by Studs Terkel, "Gender Queer" by Maia Kobabe and "The Curious Incident of the Dog in the Night-time" by Mark Haddon — are now available for checkout at the library, or digitally as e-books and e-audiobooks via the Libby app for Highland students and staff.
"As national news provides us with daily examples of new challenges to school and public library materials, with the Banned Books Challenge we hope to engage the Highland community in civic reflection around the topics of censorship, book banning, and the freedom to read," said Reference Librarian Laura Watson. "We're looking forward to sharing in discussion of these three very interesting books this semester."
Programming begins at 2 p.m. on Tuesday, Sept. 13 with speaker Dr. Emily Knox on Zoom. Knox will discuss how the individual right to freedom of expression intersects with intellectual freedom. She will focus on individual autonomy, self-realization and social justice, and how these issues intertwine with freedom of expression and book challenges. The event will double as Highland's annual Constitution Day program and is open to the public.
"We are so pleased to have Dr. Knox joining us virtually to share from her expertise on censorship and intellectual freedom," said Watson. "These are key themes both as we celebrate Constitution Day and kick off Highland's Banned Books Challenge."
Knox is an associate professor in the School of Information Sciences at the University of Illinois Urbana-Champaign. She earned her Ph.D. from Rutgers University School of Communication and Information, and holds a master's in library and information science from the iSchool at Illinois. She also holds a bachelor of arts in religious studies from Smith College and a master of arts in the same field from the University of Chicago Divinity School.
The Banned Books Challenge books are not available to be provided by Highland to the public, although anyone is welcome to purchase them separately and attend the book discussion events via Zoom on Sept. 27-28, Oct. 25-26 and Nov. 29- 30. For more on joining the Zoom discussions, visit the Banned Books Challenge Webpage.