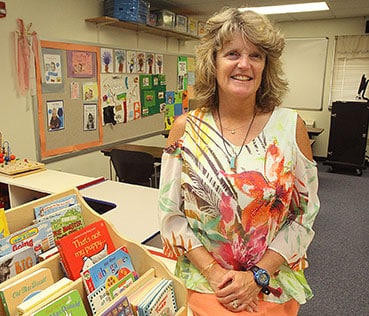 Melissa Johnson, coordinator for Early Childhood Education at Highland Community College, is featured in the July/August Exchange magazine for her designation as an Exchange Leader. In a feature story for Exchange magazine, Pam Boulton, coordinator for the Exchange Leadership Initiative, writes about the important work of educating children.
Johnson joins more than 250 current Exchange leaders from around the world. The Exchange Leadership Initiative launched in November 2014, with the intention of creating leadership in the field of Early Care and Education.
In the article, Johnson speaks of her mission to guide with a positive attitude and be a motivated and engaged leader in the field of early childhood and higher education. She adds she celebrates and champions the field of early childhood, and empowers involved advocates for children and families.
"I am humbled and honored, and this is a way to demonstrate to students the advocacy of Early Childhood Education," Johnson said. "It's a way to demonstrate by modeling how to get involved. It's important to those coming up to know that we need to build strong leadership. We have a strong program at Highland and a strong belief in what we do and what we do for families. It all comes back to the bottom line which is to help build quality for families."
Boulton said, "As we sought candidates to join the ranks of the Exchange Leadership Initiative, we looked for individuals with a passion for our field. We asked them to write about their knowledge, vision, and dreams, and to show us their persistence, determination and willingness to lead. Melissa's passion and dedication to our field came through."
Johnson's initiatives and accomplishments made during her tenure at Highland include the creation of an online Early Childhood Development degree, the creation of an Early Childhood transfer degree option, and the improvement of access to educational opportunities for working professionals. Through Johnson's efforts, Highland obtained Entitled Institution status through Gateways to Opportunity to offer ECE Credentials, and was one of five institutions selected to pilot a new state credential. Johnson achieved her Master of Online Teaching certificate through the Illinois Online Network, serves as co-chair for Illinois Associate Degree Early Childhood Teacher Educators and as vice-president for Early Childhood Consortium within Stephenson County.
For more information on Early Childhood Education at Highland, call 815-599-3484 or visit highland.edu/academics.