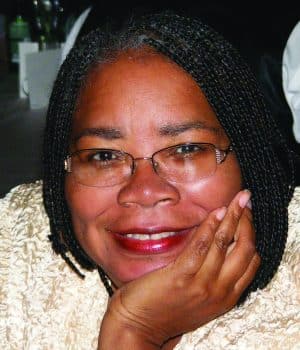 Highland Community College's Clarence Mitchell Library will present "All May Enter," an interactive program at 2 p.m. April 12 on Zoom™ for National Poetry Month. Illinois Poet Laureate Angela Jackson will combine poetry reading with some perspective on poetry and the role of the Illinois Poet Laureate.
The program encourages readers and listeners to enter the realm of poetry. Jackson says, "Poetry belongs to each of us, wealthy, super-rich, middle class, working-class, and poor. And, through poetry, we are revived and enabled to live our own lives with keener insights, more robust passion, and tender compassion and courage. Wherever we live – in city, town, countryside, or rural area, we are revived by the power of poetry."
The event is being co-produced by the Illinois Humanities Road Scholars Speakers Bureau, which invites Illinois authors, artists, and educators to share their expertise and enthusiasm with people throughout the state, enabling local nonprofit organizations to present free-admission cultural programs to their communities.
Jackson is a Poet Laureate, an award-winning poet, novelist, and playwright, who has published three chapbooks and four volumes of poetry. Born in Greenville, Mississippi, and raised on Chicago's Southside, she was educated at Northwestern University and the University of Chicago.
Her collections of poetry include "VooDoo/Love Magic" (1974); "Dark Legs and Silk Kisses: The Beatitudes of the Spinners" (1993), which was awarded the Carl Sandburg Award and the Chicago Sun-Times/Friends of Literature Book of the Year Award; "And All These Roads Be Luminous: Poems Selected and New" (1998), nominated for the National Book Award, and "It Seems Like a Mighty Long Time" (2015) that was nominated for the Pulitzer Prize, the Pen/Open Book Award, a finalist for the Hurston/Wright Legacy Award, and a finalist for the Milt Kessler Poetry Prize. She received a Pushcart Prize and an American Book Award for "Solo in the Boxcar Third Floor E" (1985). Jackson's latest book, "More Than Meat and Raiment," was published in early 2022.
For more information on the program contact Laura Watson at 815-599-3456 or laura.watson@highland.edu. To get the Zoom link visit highland.edu.