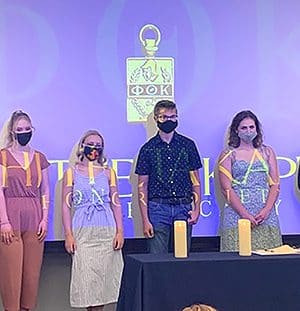 Highland Community College's chapter of the international honor society, Phi Theta Kappa (PTK), inducted 14 new members during a ceremony held in the HCC Student/Conference Center.
PTK is the official honor society for two-year colleges and is the largest honor society in American higher education. To be eligible for membership, students must complete a minimum of 12-credit hours toward their associate degree while having a 3.5 cumulative Grade Point Average (GPA).
"PTK is a great opportunity for students to showcase their leadership skills in a variety of ways," said Vicki Schulz, Student Advisor/Transfer Coordinator. "PTK members receive opportunities for additional scholarships once they transfer."
PTK does various activities throughout the semester for the college or community. In the past PTK has had a Christmas giving tree for local families and nursing home residents, bake sale for Breast Cancer Awareness at volleyball games, helped with Servant leadership Hearts and Hands for Hunger, and been part of a highway pick up litter day.
In addition to academic achievement and scholarship, PTK members have conducted voter registration on campus, sponsored poetry reading and essay contests, and held movie and discussion nights throughout the year.
Spring 2021 Inductees:
Sophia Carter (Freeport); Maddie Dauphin (Savanna); Zacharey Green (Orangeville); Alyssa Hunziker (Freeport); Kayla Janssen (German Valley); Jamie Jensen (Freeport); Hailey Johnson (Pearl City); Cali Minkie (Dakota); Cody Pitts (Pearl City); Cierra Schoen (Monroe, Wis.); Madilyn Schultz (Lena); KierraLynn Schulz (Lena); Kyle Strite (Oregon), and Kelsey Turner (Pecatonica)
For more on Highland Community College, visit highland.edu.
Photo: (Left to Right) Alyssa Hunziker, Kayla Janssen, Hailey Johnson, Cody Pitts, KierraLynn Schulz, and Kyle Strite.