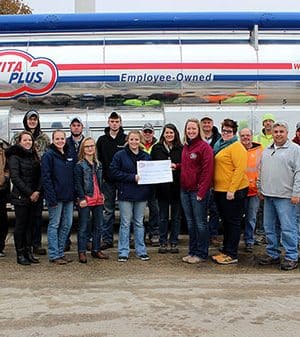 Vita Plus Corporation has made a donation of $5,000 to the Highland Community College agriculture program through the HCC Foundation.
HCC agriculture students and instructors visited the Vita Plus Feed Mill in Lanark, Illinois on November 13, to be a part of the official announcement of the gift and the check presentation. Following the presentation, the Vita Plus team led the students on an informative tour of their facilities.
Vita Plus Dairy Specialist Augusta Witt noted, "One of the cornerstones of Vita Plus is being able to provide the newest and most cutting-edge solutions to help livestock producers achieve their goals. We seek to continue this tradition by growing and nurturing our relationships with universities and technical schools to help train the next generation."
"The Agriculture Department would like to thank Vita Plus for their continued support of our programs. This donation will be used to help support the dairy judging program and the purchasing of feed analyzing equipment," stated Agriculture Instructor Justin Ebert. "Vita Plus has graciously welcomed our students to learn firsthand the importance of animal nutrition and customer satisfaction. The success of our students is greatly dependent upon positive working relationships like this one."
Vita Plus Corporation is an employee-owned company headquartered in Madison, Wisconsin. Vita Plus has been serving livestock producers since 1948. More than just a feed supplier, Vita Plus consultants offer the latest cutting-edge technology, nutrition, and management information. For more information about the organization, call 800.362.8334 or go online at www.vitaplus.com.