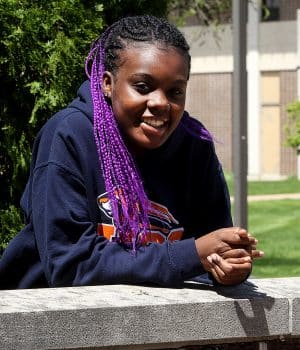 With a desire to play basketball in the United States, Naomi McKenzie of London, England looked at her options to begin her academic career and still play a sport she loved.
McKenzie received a scholarship to play basketball at Highland Community College and began her studies to pursue a degree in Criminal Justice. She graduates from Highland Community College on May 18, with her Associate of Arts in Criminal Justice. Her future plans are to continue her studies at a college or university in the United States, aspiring to become a lawyer.
McKenzie has been on the Dean's List while studying at Highland, and living in the states has opened her eyes to learn a new culture. She also had a job as a student worker.
"Being away from home was a challenge for me, and adapting to rural America was another. I met some great people while attending school at Highland, and getting to know my instructors was a plus. I like the intimate classroom setting, and everyone has been so supportive. I am proud to be a Highland Cougar," she said.
While excelling in the classroom, she also excelled on the basketball court, being named two-time conference and regional champion.
"It was a great pleasure to have Naomi as part of the Cougar family these past two years," Said Pete Norman, Director, Athletics and Physical Education.  "Being an international student-athlete cannot be an easy transition and she was a great ambassador for Highland and our basketball program, excelling both in the classroom and basketball floor."