Click on a Major to view printable requirements page.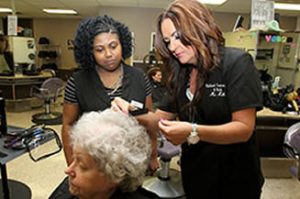 Major
Cosmetology – Certificate (Program Outcome)
Nail Technology – Certificate
Degree
Certificate
Cosmetology
Cosmetology stylists train with the latest equipment to provide hair, skin, and nail care services to clients. These services include hair styling, hair shaping, styling of wigs and hair pieces, all chemical services, skin care analysis and treatments, make-up applications, manicures, nail extensions, and pedicures.
The Highland cosmetology certificate program is designed to provide the fundamental skills necessary to enter the cosmetology field. Students learn the scientific skills of cosmetology including how chemicals react to various hair textures and colors. With a minimum of 1,500 clock hours of preparation and training for the Department of Professional Regulation Exam in cosmetology, students master the basic and current trends of this artistry. Aware of the ever-growing demand for proficient designers in this career, the HCC cosmetology program is designed to simulate a contemporary salon environment while training with the latest equipment. HCC's salon was the first in the area to utilize ergonomically correct shampoo equipment and computerized software for selecting the best style and color for customers.
Highland students complete training in salesmanship, salon management, and business communication giving them an advantage in owning or managing a salon.
Nail Technology
During this comprehensive, yet condensed program, students in the nail technology program learn about nail structure and sanitation fundamentals as well as develop their manicuring and pedicuring skills as well as gain proficiency in advanced nail art, wraps, and tips with salon customers. After completing required clock hours of training for the Department of Professional Regulation Exam, students will have a strong platform to launch a career as a nail technologist in this ever-popular field.
Possible Career Paths
Possible entrepreneurial opportunities in the field of cosmetology include stylist, nail technician, esthetic specialist, chemical services specialist, cosmetic company representative or platform artist, and educator.
Contact Cosmetology Department
Cosmetology Faculty
Amy Chamberlin, Cosmetology faculty
Scholarship Opportunities
View all of our scholarships here.
---
Related Classes