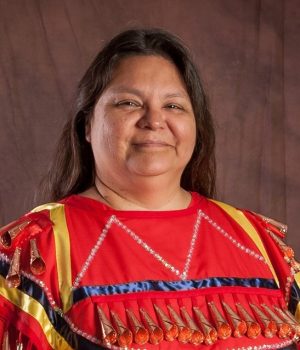 The Highland Community College Diversity Committee presents "Journeying Through the American Indian Way of Life" with Kim Sigafus at 2 p.m. on Monday, Nov. 14 via Zoom™, and in person at the Student/Conference Center, room H-201, at the College, 2998 W. Pearl City Rd., Freeport, Ill.
Kim Sigafus is an internationally-published and award-winning Ojibwa author and speaker. Dressed in her native regalia, Sigafus will speak about the tribes that once inhabited Illinois. She will lecture on their traditions and culture through the early 1800s — when increasing colonization and the Indian Removal Act displaced many indigenous people. Such topics as native gardening, harvest, and music will be included in the presentation. She will also sing for a performance during the event.
"In my interactive presentations, I take the audience through a day in the life of the native people," Sigafus said. "During the time they spend with me, they get to be immersed in the culture by listening to the native history of Illinois, they hear about the Trail of Tears that ran through our state, and they learn some language and music."
Sigafus is the owner of Quiet Souls in Freeport, which attaches to her Ojibwa name: "Bekaadiziikwe" — translating in English to "Quiet Woman."
This public virtual event is free for participants. To join the presentation, find the Zoom link at highland.edu/event/kim-sigafus. For more on Kim Sigafus, visit her website at kimberlysigafus.com.