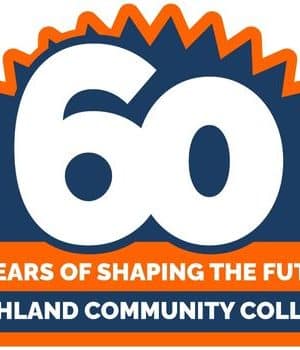 FREEPORT — A full slate of events after the Labor Day holiday weekend will kick off a year of observing Highland Community College's 60th anniversary.
Members of the community are invited to join the festivities with a family movie night on Highland's official anniversary date, Sept. 6, at 6:30 p.m. The college will stream a summer blockbuster for all ages at this free event, and woodfired pizza will be available to purchase from a food truck.
Guests are encouraged to bring their own lawn chairs or a blanket to enjoy this evening on the lawn outside Highland's Marvin-Burt Liberal Arts Center (Building M).
Coinciding with the anniversary, Highland's Welcome Week from Sept. 6-9 will give Cougars a chance to observe this special week together. Events planned for students include a t-shirt tie-dye activity, fall picnic and spirit day, comedy show and ice cream social.
Students, staff and faculty also will gather the afternoon of Sept. 6 to place some of their favorite memories into Highland's first-ever time capsule, which will be buried near the gazebo on campus.
Highland, originally established as Freeport Community College by public referendum in November 1961, first opened its doors in September 1962. Today, the college's district spans a 64-mile swath of Northwestern Illinois, encompassing Stephenson, Ogle, Jo Daviess and Carroll counties.
The institution serves the high school districts of Aquin, Dakota, East Dubuque, Eastland, Forrestville Valley, Freeport, Galena, Lena-Winslow, Orangeville, Oregon (Mt. Morris), Pearl City, River Ridge, Scales Mound, Stockton, Warren, and West Carroll (Mt. Carroll and Savanna).
"As Highland celebrates 60 years, we are most proud of our ongoing mission providing access to a quality education right here in Northwestern Illinois," said Highland President Chris Kuberski. "There is no greater legacy than the students, communities and businesses our institution serves each year."
Learn more about HCC's 60th anniversary, campus events and academic programs at highland.edu.