Many out of district students are eligible for in-district tuition for this specific program including Rockford area and Sauk Valley area students. Contact Jeremy Bradt in admissions for more information.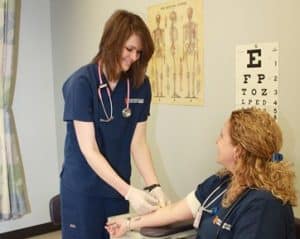 General Information
Highland's Medical Assistant program is accredited by the Commission on Accreditation of Allied Health Education Programs (CAAHEP) upon recommendation of the Medical Assisting Education Review Board (MAERB).
Commission on Accreditation of Allied Health Education Programs
25400 US Highway 19 North, Suite 158
Clearwater, FL 33763
727.210.2350
www.caahep.org
Highland Community College is accredited by the Higher Learner Commission of the North Central Association of Colleges and Schools. Courses are transferrable for those students looking to continue their education and training in the future.
Admissions Checklist
Admissions Criteria
Information about the Kaplan testing dates can be found here.
Medical Assistant Curriculum
In the last three years HCC's Medical Assistant program has maintained a 100% pass rate on the CMA-AAMA Certification Exam, well above the national average.
Upon graduation students are eligible to take the CMA-AAMA Medical Assistant Certification exam.
Medical Assistant Program Outcomes
| | |
| --- | --- |
| Year | 5 year aggregate data |
| Retention Rate | 91.49% |
| Placement Rate | 83.72% |
| Graduate Participation | 83.72% |
| Graduate Satisfaction | 100.00% |
| Employer Participation | 72.22% |
| Employer Satisfaction | 100.00% |
| Exam Participation | 91.18% |
| Exam Pass Rate | 100.00% |
| Graduates | 43 |
Click here for program statistics
Highland tuition and fees are as much as one-third that of other regional providers. Current tuition, fees, books and requirements for clinical experience is approximately $9,500 — a real bargain in today's high-priced environment.The program is Financial Aid eligible. Contact Financial Aid at 815.599.3519.
Click on a Major to view printable requirements page.
Majors:
Medical Assistant – AAS (Program Outcomes)
Degrees:
Associate of Applied Science
Medical Assistant
Demand for medical assistants is expected to far exceed supply in the next few years. In fact, locally, there is already a shortage of these workers, as reported by local human resource executives. These workers are highly desirable in clinic settings, with multiple technical skills which provide flexibility to clinical managers and frees up nursing staff for higher level activities. Statewide projections are also dramatically good for this occupational group, with most employment occurring in physician's offices, hospitals, and offices of other health care providers (nurse practitioners, etc).
Our Medical Assistant Faculty and Staff:
Jennifer Grobe, PhD(c), MSN, RN, CCM, CNE, Interim Associate Dean of Nursing and Allied Health, 815.599.3688
Alicia Kepner, CMA, Medical Assistant Faculty, 815.599.3679
Heather Moore, Student Advisor, 815.599.3483
Scholarship Opportunities:
View all of our scholarships here.
Program Goal
Highland Community College's Medical Assistant Program strives "to prepare competent entry-level medical assistants in the cognitive (knowledge), psychomotor (skills), and affective (behavior) learning domains."   Our goal is to promote professional, valuable, and efficient health care through educational theory and demonstration of knowledge and skills set forth by CAAHEP.