Medical Assistant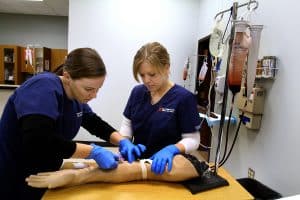 Turn your passion for helping others into a career you can be proud of. Our Medical Assistant program provides you with a strong foundation in everything from clinical skills, to patient interaction and administrative duties. With our hands-on, career driving curriculum, you'll have the skills and confidence to apply your knowledge in any healthcare setting – right after graduation. And you won't have to wait long, because there is a huge shortage of qualified medical assistants and our graduates find jobs fast.
Students entering the health care profession must have a positive attitude about the importance of the work they are being asked to perform. This involves integrity, flexibility, and communication skills. Medical Assistants are the heart of the heath care team.
Many out of district students are eligible for in-district tuition for this specific program including Rockford area and Sauk Valley area students. Contact Jeremy Bradt in admissions for more information.
Career Field
The program graduates may find jobs scheduling and receiving patients, preparing and maintaining medical records, performing first aid and CPR, assisting with medical examinations, administering medication and instructing on special diets, performing EKG's and being trained in phlebotomy.
Program Goal
Highland Community College's Medical Assistant Program strives "to prepare competent entry-level medical assistants in the cognitive (knowledge), psychomotor (skills), and affective (behavior) learning domains." Our goal is to promote professional, valuable, and efficient health care through educational theory and demonstration of knowledge and skills set forth by CAAHEP.
Majors
Medical Assistant – AAS (Program Outcomes)
Medical Assistant – Certificate
Degrees
Associate of Applied Science
Medical Assistant
Program Contacts
Dr. Stephanie Eymann, DNP, RN, Dean of Nursing and Allied Health, 815-599-3439
Alicia Kepner, CMA, Medical Assistant Faculty, 815-599-3657
General Information and Accreditation
Highland's Medical Assistant program is accredited by the Commission on Accreditation of Allied Health Education Programs (CAAHEP) upon recommendation of the Medical Assisting Education Review Board (MAERB).
Commission on Accreditation of Allied Health Education Programs
9355 113th Street N, #7709
Seminole, FL 33775
727-210-2350
www.caahep.org
Admissions Checklist
Admissions Criteria
Kaplan Testing Date Information
Medical Assistant Curriculum
Upon graduation, students are eligible to take the CMA-AAMA Medical Assistant Certification exam.
Medical Assistant Program Outcomes
| | | | |
| --- | --- | --- | --- |
| Year | 2020 | 2019 | 2018 |
| Retention Rate | 77.78% | 85.71% | 77.78% |
| Placement Rate | 100.00% | 85.71% | 100.00% |
| Graduate Participation | 83.33% | 57.14% | 72.73% |
| Graduate Satisfaction | 100.00% | 100.00% | 100.00% |
| Exam Participation | 100.00% | 100.00% | 100.00% |
| Exam Pass Rate | 100.00% | 100.00% | 100.00% |
| Graduates | 6 | 7 | 11 |
Click here for program statistics
Scholarship Opportunities: