Highland Community College offers several pathways to becoming a nurse or entering the healthcare field. Students can help ease the nursing shortage and make a great impact on the future of healthcare by enrolling today.
Other Nursing Programs:
General Admissions Information – Fall 2018
Admissions Criteria and Checklist
Information Session Dates
Applicants are required to attend an information session in order to receive an application to apply. Students must call the coordinator of nursing program and lab at 815-599-3679 to register for an information session. All sessions are held in the HCC Natural Science and Math Center, Room N-166.
Information about the Kaplan Nursing Entrance Exam can be found here.
LPNs looking to apply for the RN program should contact Jennifer Grobe at 815.599.3688 for more information.
Click on a Major to view printable requirements page.
Majors
Nursing (ADN) – AAS (Program Outcomes)
Basic Nurse Assistant (BNA) – Certificate
Degrees
Associate of Applied Science
Certificate
Basic Nurse Assistant
The Highland certified nurse assistant program curriculum will prepare students to take the state certificate exam for nursing assistants. Upon successful completion of the exam, students may work as nursing assistants. The CNA program provides a foundation for all other nursing programs at HCC. Students learn valuable direct care skills. This certification program is offered every semester, including the summer session, at the main campus in Freeport. It is also offered at off-campus sites.
Associate Degree in Nursing
This (ADN) degree prepares students to take the the National Council Licensure Examination (NCLEX-RN). Upon successful completion of the exam, the student is eligible to become licensed as a registered nurse (RN).
BSN options are available through our partner schools. Students interested in completing a BSN should contact Heather Moore at 815.599.3483.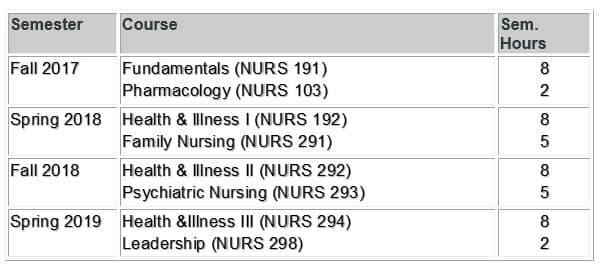 Nursing Administration and Advisor
Jennifer Grobe, PhD, RN, CCM, CNE, Associate Dean of Nursing and Allied Health, 815-599-3688
Alicia Kepner CMA, AAMA Coordinator, Nursing Program and Lab, 815-599-3679
Heather Moore, Nursing Program Student Advisor, 815-599-3483
Our Nursing Faculty
Jessica Larson, MSN, RN, 815-599-3467
Christine Sanders, MSN,RN., 815-599-3439
Kay Sperry, MSN,RN., 815-599-3684
Chrislyn Senneff, MSN,RN, 815-599-3458
Jen Yeager, DNP, APNP, AGACNP-BC, CCRN, 815-599-3682
Stephanie Eymann, DNP, RN
Shelly Morgan, MSN, RN 815-599-3727
Nursing Scholarship Opportunities
View all of our scholarships here.

DAISY Award for Extraordinary Student Nomination Form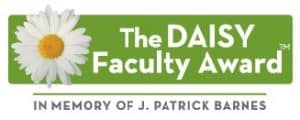 DAISY Award Faculty Nomination Form
This nursing education program is a candidate for accreditation by the Accreditation Commission for Education in Nursing.
Accreditation Commission for Education in Nursing (ACEN)
3343 Peachtree Road NE, Suite 850
---
Related Classes