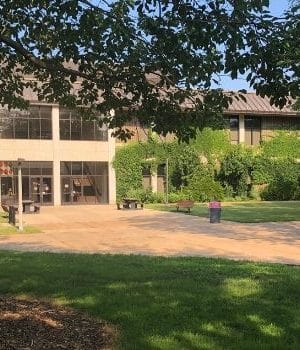 The Highland Community College Agriculture Program will host the Northwest Illinois Agriculture Industry Expo from 9 a.m. to 2 p.m. on Friday, Dec. 9 in the Student/Conference Center in building H at 2998 W. Pearl City Rd., Freeport, Ill.
The first portion of the event features rotations of hands-on activities and demonstrations for high school students that align with Highland's certificate and degree opportunities in agribusiness, animal science, crop and soil science, horticulture, and precision technology.
High school students will network with local agricultural employers after the pathway rotations. In the afternoon, Highland Agriculture students will have the opportunity to meet with several industry employers. College students may share a copy of their resumes with employers, and participate in employment interviews for available jobs and internships.
"By uniting agricultural employers with future employees at this event, we want to help students personally meet and physically see who and what northwest Illinois agriculture is," said Monica Pierce, an Agriculture instructor. "We hope students in attendance can link their interests to classes and degrees — but most importantly, to professional opportunities available in our region. We hope this event encourages, inspires, and invites the next generation of agriculturalists to plant their future here in northwest Illinois."
The schedule for the expo is shown below.
8:30 a.m. — Registration
9 – 9:15 a.m. — Welcome
9:15 – 11:15 a.m. — Highland Ag Pathway Rotations (high school students), Building E
11:15 – 11:45 a.m. — Professional Networking (high school students), Building H-201
11:45 a.m. – 12:30 p.m. — Lunch, Building H-201
12:30 – 1:15 p.m. — Professional Networking (College students, Rotation 1), Building H-201
1:15 – 2 p.m. — Professional Networking (College students, Rotation 2), Building H-201
To attend the expo as an interested student or industry partner, please complete the corresponding registration form at highland.edu/events. Contact Justin Ebert at justin.ebert@highland.edu or Monica Pierce at monica.pierce@highland.edu with questions about the event. For more on Highland's Agriculture program, visit highland.edu.