Need a little on the spot research assistance? Rx For Research is a series of small hands-on workshops designed for students with research based assignments. Workshops will be held in room M-235 in the library computer lab.
---
Rx for Research Workshops
Where? Library M-235
Rx for Research
Start the semester right with some research assistance!
Rx for Research is a series of "just in time" research skills workshops for Highland students. These 20 minute sessions are held in the Library (room M-235) and are geared toward assisting individuals or small groups of students (1-5) with improving basic research skills and with finding materials for particular assignments. No registration is necessary. Workshops will be offered on a first come/first served basis and will be repeated frequently.
Monday, November 25 – Friday, December 13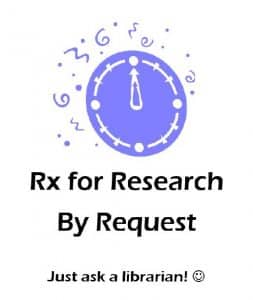 Where? Library M-235
Call us at 815.235.3539 or email library@highland.edu