Early Childhood Education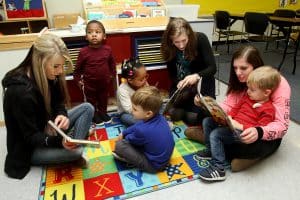 The early childhood certificate program prepares students for the many positions in this field. This program is a direct link to the shaping of the next generation, as graduates guide children through their social, cognitive, and emotional development. The associate of applied science (AAS) degree prepares students to care for young children while simultaneously teaching social and developmental functions. The two-year degree includes general education requirements and leadership curriculum.
Students completing this degree are eligible for a Gateways to Opportunity Level 4 credential, an industry recognized credential. This degree is designed as a nontransferable program, however, some 4-year institutions may accept courses for transfer. Students should meet with the ECE Coordinator and advisor for more information.
Possible Career Paths
The field of early childhood covers children, birth through eight years of age. Potential careers include working directly with young children and their families through teaching in public and private schools, Head Start programs, child care centers, and family child care homes. Opportunities are both in the classroom as well as field workplace experience to practice skills learned.
Major
Early Childhood Education – AAS (Program Outcomes)
Early Childhood Education – AA (Program Outcomes)
Early Childhood Education Certificate Infant/Toddler – Certificate
Early Childhood Education Certificate Infant/Toddler – Level 2 – Certificate
Early Childhood Education Certificate Infant/Toddler – Level 3 – Certificate
Early Childhood Education Certificate Level 2 – Certificate
Early Childhood Education Certificate Level 3 – Certificate
Contact Early Childhood Education Department
Our Early Childhood Faculty
Melissa Johnson, Early Childhood Education instructor
Highland Community College Scholarships.
Early Childhood Access Consortium for Equity Scholarship Program