Physics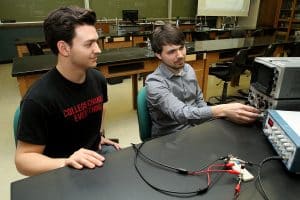 A physics degree is a great starting point for a career in scientific research. Some graduates go on to further study at the postgraduate level in order to enhance their knowledge of a particular area of physics. With a Bachelor of Science degree in Physics or Engineering Physics, students can pursue careers in research and development, science, engineering, education, medicine, law, business, and the military.
Potential areas of specialization include astrophysics, particle physics, biotechnology, nanotechnology, meteorology, condensed matter theory, quantum dynamics, applied physics, plasma physics, aerospace dynamics, atomic and laser physics, atmospheric, oceanic and planetary physics and climate science.
Career Field
A physics bachelor's degree now ranks higher in starting salary than many other technical fields. Solving difficult theoretical constructs, mastering hands-on experimental techniques, wrangling data acquisition and analysis, and developing skills in error analysis, technical writing, and computer programming are hallmarks of the undergraduate physics experience.
Physics Contacts
David Esch, Physics Instructor
Beth Groshans, Advisor
Dr. Brendan Dutmer, Associate Dean, Natural Science and Mathematics
Majors
Physics – AS (Program Outcome)
Degree
Associate of Science