About the Program
This program is intended to provide the first two years of a four-year baccalaureate program. Environmental Science majors apply biological, chemical, and physical principles to the study of the physical environment and the solution of environmental problems, including subjects such as abating or controlling environmental pollution and degradation; the interaction between human society and the natural environment; and natural resources management.
Nature of Work and Employment

Environmental scientists identify and analyze environmental problems both natural and human-made, evaluate the relative risks associated with these problems, and examine alternative solutions for resolving or preventing them. The most common jobs people have one year after graduating with a baccalaureate degree in this major are Researcher, Policy Adviser, Compliance Officer, and Consultant.
Special Considerations
Those interested in Environmental Science should have an aptitude for Interdisciplinary Science and Mathematics as well as an awareness of Sociological and Political issues. Students must meet with an advisor to ensure that the special requirements of the department and institution to which they plan to transfer are met. Colleges and universities have specific requirements for transfer students. Students are encouraged to take MATH 268 Analytic Geometry and Calculus II as it is required by some programs.
Majors
Environmental Science- AS (Program Outcomes)
Degrees
Associate of Science
Contact our Math and Sciences Department
Vicki Schulz, advisor
Our Environmental Science Faculty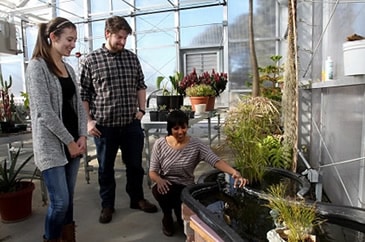 Brendan Dutmer, Associate Dean of Natural Science and Mathematics
Juliet Moderow, Biology faculty
Karla Giuffre, Biology faculty
Tony Grahame, Biology faculty
Alan Nowicki, Biology faculty
Scholarship Opportunities