Majors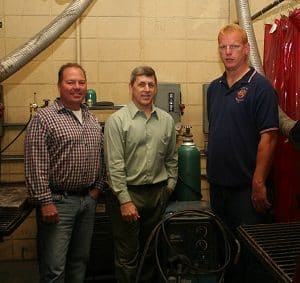 Industrial Training – AAS
Degree
Associate of Applied Science
Industrial Training
The Industrial Training degree was created in partnership with the area 23 Plumbers and Pipefitters union. Its main purpose is to create pathways for those pursuing a career having an emphasis in Welding. Students will gain the core welding and General Education skills at Highland. The remainder of their skill development will be obtained through the existing structure of the Plumber/Pipefitters and Heating Air Conditioning and Ventilation (HVAC) 5-year Apprentice program. Upon completion of this degree, each student will have the necessary skills to work in a group or independently.
Industrial Technicians will find a wide variety of employment options mainly in the area of metal fabrication. Possible careers would be welders, brazer, plumber, pipefitter, and steamers. These careers are generally for full-time positions with plenty of opportunity for overtime and possible travel. Completers of this program would be able to be hired in several entry-level positions, but with their completion of the apprentice program within these degrees, they would be able to work at a Journeymen's level and pay rate.
For more information about this program, contact the dean of Business and Technology, Scott Anderson at 815.599.3604.
Industrial Training Faculty
Steve Gellings
Aaron Sargent
Industrial Training Scholarship Opportunities
Marion Byram
Eduard Buss Business and Technology
James A. Davis Memorial